Agricultural Biostimulants
Agricultural biostimulants are biological or biologically derived fertilizer additives and similar products that are used in crop production to enhance plant growth, health and productivity. They might achieve this by:
Helping to improve nutrient-use efficiency
Helping plants tolerate abiotic stresses like heat, cold, drought, and too much water
Helping to improve quality attributes like nutritional content, appearance, and shelf-life
The term "agricultural biostimulants" encompasses a diverse group of product technologies and may include
bacterial or microbial inoculants, biochemical materials, amino acids, humic acids, fulvic acids, seaweed extracts and more. They can be used to supplement and enhance existing agricultural practices and crop inputs.
Learn more about agricultural biostimulants by downloading Agricen's "
Growing for the Future
" booklet.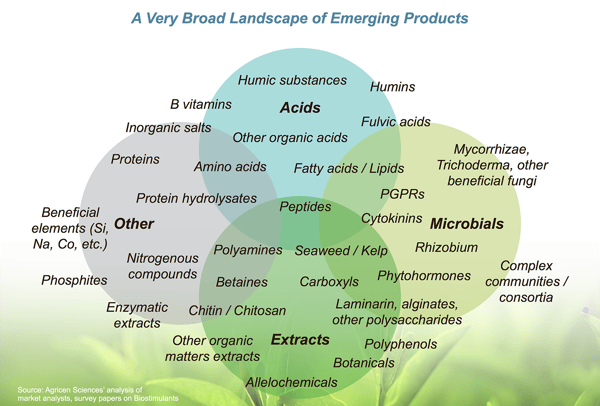 The biostimulants market, which is one of the categories within the larger agricultural biologicals market, is currently valued between $1.5 to $2 billion and is expected to grow to over $2.5 billion by 2021.1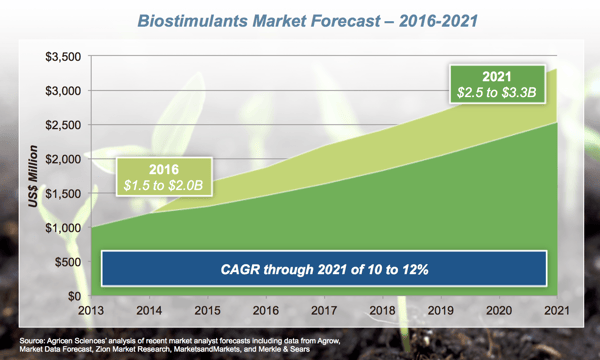 Defining Biostimulants
Although the biostimulants category is rapidly growing, there is no agreed-upon legal definition for biostimulants in the United States. In the U.S., the Biostimulant Coalition is at the forefront of working to address regulatory and legislative issues involving biological or naturally derived additives for use with crops. The Biostimulant Coalition, in consultation with the Association of American Plant Food Control Officials (AAPFCO), have agreed that the defined term "beneficial substances," may be a useful umbrella under which many biostimulants could seek their own definitions. Beneficial substances are considered by AAPFCO to be:
"Any substance or compound other than primary, secondary, and micro plant nutrients that can be demonstrated by scientific research to be beneficial to one or more species of plants, when applied exogenously to the plant or soil."
To date, Europe has advanced the furthest in developing a consensus definition as well as a regulatory and legislative framework for biostimulants. The European Biostimulants Industry Council (EBIC) defines biostimulants as follows:
"Plant biostimulants contain substance(s) and/or micro-organisms whose function when applied to plants or the rhizosphere is to stimulate natural processes to enhance/benefit nutrient uptake, nutrient efficiency, tolerance to abiotic stress, and crop quality."
Why Biostimulants for Agriculture?
According to EBIC, biostimulants distinguish themselves from traditional crop inputs in two main ways, and are therefore complementary to crop nutrition and crop protection:
Biostimulants operate through different mechanisms than fertilizers, regardless of the presence of nutrients in the products
They differ from crop protection products because they act only on the plant's vigor and do not have any direct actions against pests or disease
Further:
"Agricultural biostimulants include diverse formulations of compounds, substances and micro-organisms that are applied to plants or soils to improve crop vigor, yields, quality and tolerance of abiotic stresses. Biostimulants foster plant growth and development throughout the crop life cycle from seed germination to plant maturity in a number of demonstrated ways, including but not limited to:

Improving the efficiency of the plant's metabolism to induce yield increases and enhanced crop quality

Increasing plant tolerance to and recovery from abiotic stresses

Facilitating nutrient assimilation, translocation and use

Enhancing quality attributes of produce, including sugar content, color, fruit seeding, etc.

Rendering water use more efficient

Enhancing soil fertility, particularly by fostering the development of complementary soil micro-organisms"
Advancing Biostimulant Technologies for Agriculture
Agricen and our sister companies, Agricen Sciences and Agricen Australia, are enhancing plant health and nutrition with biostimulants derived from a naturally occurring, diverse community of microorganisms and the biochemical byproducts they produce (e.g., organic acids, proteins, enzymes). These biochemicals are the key functioning components of our commercially available biocatalyst product technology. The biochemistry in our products interacts with the plant-soil system to increase the availability and uptake of nutrients that are applied in the form of fertilizers or that are present already in the soil or in crop residues.
Our rigorous scientific research program continues to be focused on developing biostimulant products rooted in biology and biochemistry, with the goal of further improving the performance of plant nutrition programs and providing growers with the tools they need to increase productivity and sustainability.
Learn more about agricultural biostimulants by downloading Agricen's "Growing for the Future" booklet:
---
1Based on Agricen Sciences' analysis of recent market analyst forecasts including: "Global Biostimulants Market (2016 – 2021)", by Market Data Forecast; "Agrow – Biostimulants 2015 Edition", by Agrow; "Biostimulants Market by Active Ingredient (Humic acids, Fulvic Acids, Seaweed, Microbials, Trace Minerals, Vitamins and Amino Acids), by Application Method (Foliar, Soil and Seed), by Crop Type (row crops, fruits and vegetables, turf and ornamentals, other crops) - Global Industry Perspective, Comprehensive Analysis and Forecast, 2015 – 2021", by Zion Market Research; "Biostimulants Market: Global Trends & Forecasts to 2021" by MarketsandMarkets; and "Global Biostimulants Market Analysis (2016 – 2022), January 2017", by Merkle & Sears.