Agricen is a plant health technology company delivering innovative biochemical-based products that sustainably enhance plant health, quality and yield.

Helping Growers Meet Agricultural Challenges

Growers around the globe are facing increasing costs, the need for greater productivity and the demand for more sustainable agricultural practices. Agricen's innovative biocatalyst products help meet these challenges by improving the availability and uptake of a broad range of nutrients from fertilizers and soil nutrient sources.
By incorporating Agricen's products into their plant nutrition programs, growers can improve nutrient use efficiency, boost plant performance and increase their yields economically and sustainably.
Agricen's products for agriculture are widely available under the Accomplish MAX™, Extract® PBA, Maritime®, Prologue®, Terramar® and Titan® XC brand names available from Loveland Products through Nutrien Ag Solutions.
Solutions for Turf and Ornamental Plants
Agricen's plant health technology is also used throughout the turf and ornamental plant market, helping turf managers, nursery operators, and landscape professionals get the most out of fertilizer programs by sustainably improving plant health, quality and performance. Turf and ornamental brands include SoilLife™ and NutriLife®.
Our History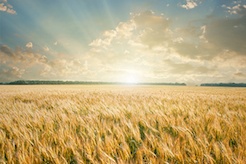 In the late 1950s, Texas farmer Bob Pedigo pioneered the original product technology, launching products with applications in plant nutrition and soil and water remediation. In 1998, Mr. Pedigo licensed his processes, formulations and worldwide commercial rights to Agricen, then called Advanced Microbial Solutions (AMS). Since that time, the Company has been dedicated to providing the agricultural and turf/ornamental markets with practical plant health and nutrition product technologies derived from the diverse biological and biochemical content of Mr. Pedigo's original products.

Today, Agricen is a leader in the delivery of biochemical, biostimulant and biological technologies that enhance plant health and nutrition—providing growers with the tools they need to increase productivity and sustainability. Our products, which are manufactured both in the United States and in Australia at our Agricen Australia location, are available globally from Nutrien Ag Solutions locations across the U.S., Australia, Canada and South America. With the help of our sister company, Agricen Sciences, we also continue to be devoted to the research, development and commercialization of novel microbial and biochemical solutions for agriculture, turf and related industries—solutions that are "Based on Nature, Built on Science."